Crypviser: a blockchain-based, encrypted, secure and private messaging service
Crypviser: a blockchain-based, encrypted, secure and private messaging service
This post is also available in:
Español (Spanish)
Русский (Russian)
Crypviser is the world's first decentralized, authenticated, encrypted and anonymous instant messaging service based on blockchain technology, which was launched by the German cybersecurity firm Crypviser GmbH.
Available for iOS and Android, it has a blockchain authentication model, which eliminates man attacks in the middle (where an attacker secretly relays and possibly disrupts communication between two parties, who believe they are communicating directly between yes) creating a true end-to-end encryption model.
When configuring contacts through the blockchain, the transfer of public keys is authenticated by the nodes, which means that the keys cannot be altered, manipulated or exchanged by anyone else through said attack.
All this, together with encryption, grant the ability to hide or block chats, privacy control, unlimited data transfer and control over how someone uses the sender's message with Forwarding controls, screen capture controls and more.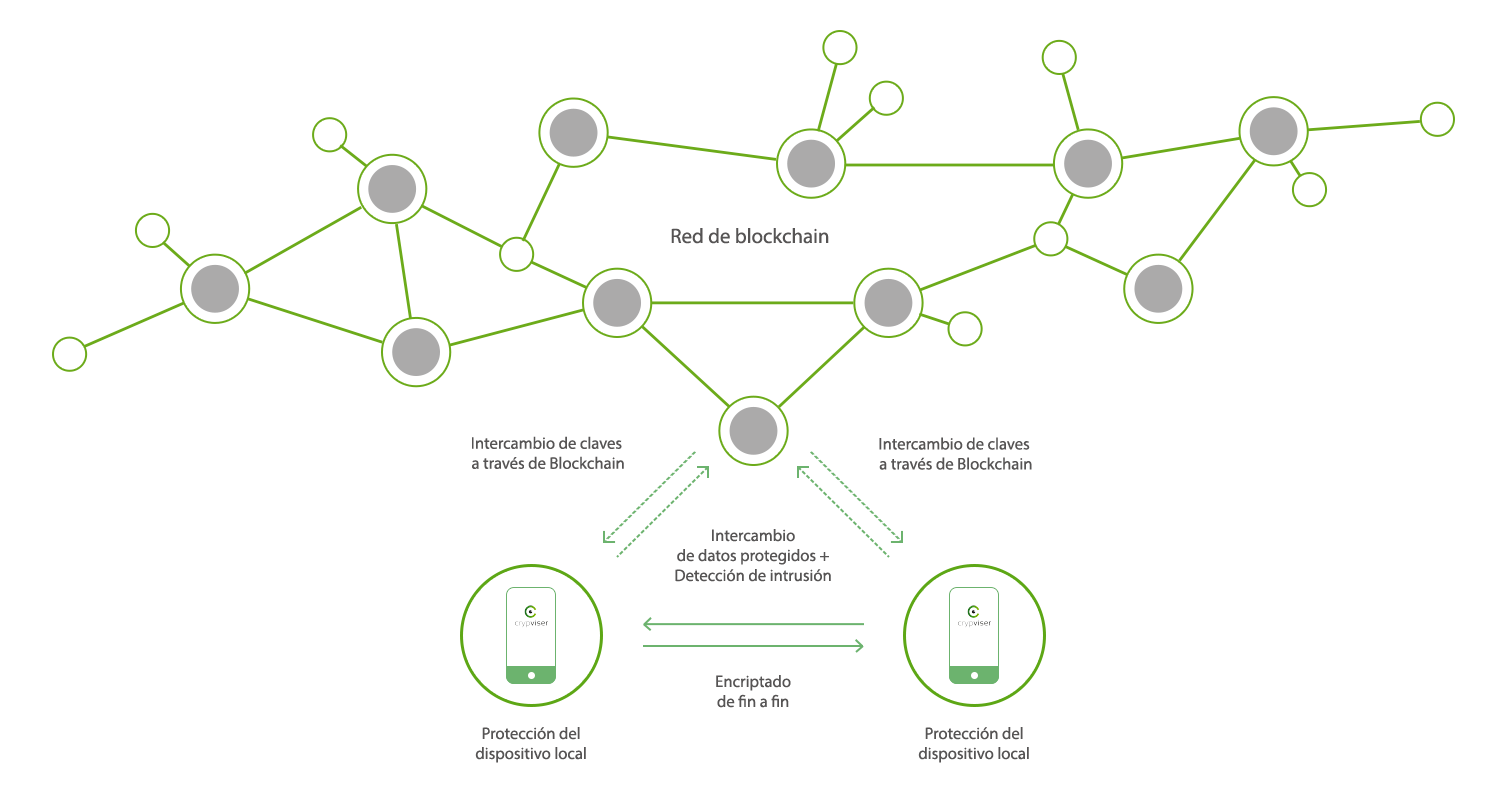 In fact, the only option we do not offer is the ability to disable end-to-end encryption, because security is not an option but a prerequisite.
The self-destruct messages allow the messages you send to self-destruct, after the receiver reads them, the user sets the time and then destroys them at both ends.
The company's commitment to security and privacy is due to the fact that, according to its blog, Crypviser believes that everyone has the right to these characteristics, so they are perfectly configured to offer users the "most private and secure communication on the planet». Each chat, call, video or data transfer is secure, encrypted and private.
Therefore, unlike almost all other messengers that are financed with the data of their users, Crypviser has chosen a more transparent business model: they sell their platform for the price of one cup of coffee per month. A very low price to pay for privacy.
They do not disseminate private information. In fact, they don't have it
Crypviser believes that the best way to protect personal information is not to collect it in the first place. Therefore, no mobile numbers, names, or an email address are needed. Thus, the user remains anonymous.
Thus, the application only knows the client by the identification by the alias that he chooses to use within the messenger.
Therefore, for use only the tool must be downloaded, from the Apple App Store or Google Play Store, neither of them shares any information with Crypivser about who comes from the download, so no names or personal information are exchanged; register an account, which requires an identification created by the user, with a code name or pseudonym, and a password created by the user.
Subsequently, all authentication is done using blockchain technology. Therefore, personal information is not required or desired.
"They can come with all subpoenas, law enforcement officials, secret service agents and court orders they want. In turn, we will gladly open the doors of our headquarters, offer them a cup of coffee and smile politely while they look for the invisible man, because he is simply not there", says the company.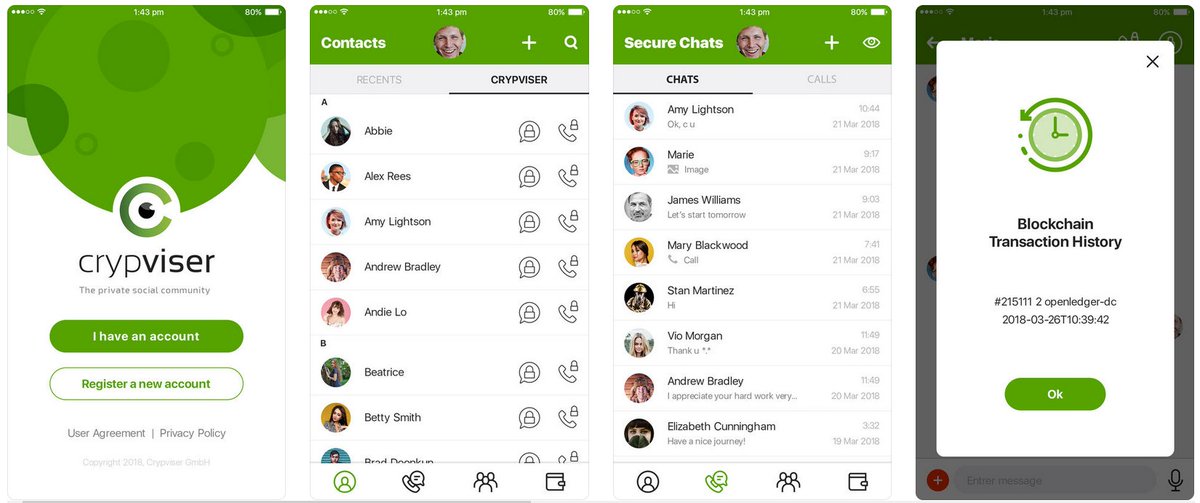 Decentralized network
Crypviser runs on the Crypviser Network, an open source network with nodes scattered around the world, which offers customers the ability to send and receive messages, data, calls, even within some areas that block the use of other messengers.
For people traveling on business or simply on vacation, this will ensure that they can still be reached, that they can still communicate safely and privately.
While, for those seeking a true private and secure form of instant communication, the application is the leader. And proof of this is that, as the platform does not depend on a central server, Crypviser operates without obstacles, even within countries such as China, Russia and India, where other messaging tools have been blocked.
It has its own cryptocurrency
CVN (CVcoin) is the cryptocurrency that is driving the world's first exchange of decentralized blockchain public keys in the world. It is a security token used to create a secure connection between devices.
Common encryption models distribute a key from a central server or directly from one address to another. A big problem with these methods is that a key can be intercepted during distribution.
To remedy this, Crypviser uses a blockchain as a secure channel to exchange public keys. Each exchange that is made requires Crypvisers Security Token CVT, which is only purchased with CVN in a 1:1 ratio.
The messaging application has an integrated crypto wallet, capable of sending, receiving and storing the token, which will be expanded to contain more cryptocurrencies based on BTS such as EOS, BTS, STEEM and more.
Sending and receiving these cryptocurrencies is as easy as sending a text message. It is not necessary to copy and paste the address of someone's wallet to send them, since each and every one of the contacts within the Crypviser have already been verified through the blockchain. Therefore, your wallet address is your contact name.
In addition, unlike storing your cryptocurrency in a centralized exchange, the cryptocurrency you have inside the Crypviser Secure Messenger wallet is cold storage. Thus, the user and only the user has the keys in their wallet, and the funds it contains.
CVN is trading at around $ 0.07 in Huobi, CoinTiger, HitBTC, Sistemkoin, Openledger DEX, BTC-Alpha and Deex Exchange.
Do you want more information? Visit to Crypviser.
Website: https://crypviserapp.com/es
Twitter: https://twitter.com/crypviser
Facebook: https://www.facebook.com/crypviser/
YouTube: https://www.youtube.com/channel/UCw4jiLq9vHfajMyQQQ1ixBA
LinkedIn: https://www.linkedin.com/company/crypviser
Bitcoin Talk: https://bitcointalk.org/index.php?topic=1922625.0
Reddit: https://www.reddit.com/r/Crypviser/
Medium: https://medium.com/@crypviser
---
Be sure not to miss any important news related to Cryptocurrencies! Follow our news feed the way you prefer; via Twitter, Facebook, Telegram, RSS or email (scroll down to the bottom of this page to subscribe). Bitcoin never sleeps. Neither do we.
---
Disclaimer: This press release is for informational purposes only, the information does not constitute investment advice or an offer to invest. The opinions expressed in this article are those of the author and do not necessarily represent the views of Cryptocurrency, and should not be attributed to Cryptocurrency.
---
This post is also available in:
Español (Spanish)
Русский (Russian)