Is Ripple (XRP) Underpriced Because Remittance is in Demand?
This post is also available in:
Русский (Russian)
Ripple prices sliding, down 10.3 percent
Remittance services in demand
Resona Bank may have disassociated themselves with RippleNet and Money Tap, but the need for remittance service is big, Ripple Inc official has revealed. With Ripple as one of the leading firms offering innovative solutions, XRP may be underpriced.
Ripple Price Analysis
Fundamentals
That the "dreaded" and unrelenting members of the so-called XRPArmy are a tireless lot is true. Concrete research findings reveal that they are bots. After their successful Binance campaign, they have their muzzle at Skype. As Microsoft product and a "telecommunications application that specializes in providing video chat and voice calls" via the Internet subscribed by many, the XRP community wants Skype to integrate XRPTipBot. By doing so, it will be possible for them to make micropayment with settlement in XRP. The campaign is on, and the community manager did respond to their request.
Demand in APAC for fast, affordable cross-border remittances is growing, but existing services can't keep up. Find out how #blockchain is changing that: https://t.co/RsSqyjWo47 pic.twitter.com/ZqXGZX88tq

— Ripple (@Ripple) April 12, 2019
Meanwhile, Ripple Inc is admitting that the demand for remittance services is too big in the Asia Pacific. That is despite all the efforts made by the global payment platform in partnering with strategic FinTech players in the zone. While Resona Bank did discontinue their cooperation with SBI Money Tap initiative, this revelation hint of the ground yet to be covered by Ripple and how banks are still dominant despite their expensive and high latency solutions.
Candlestick Arrangement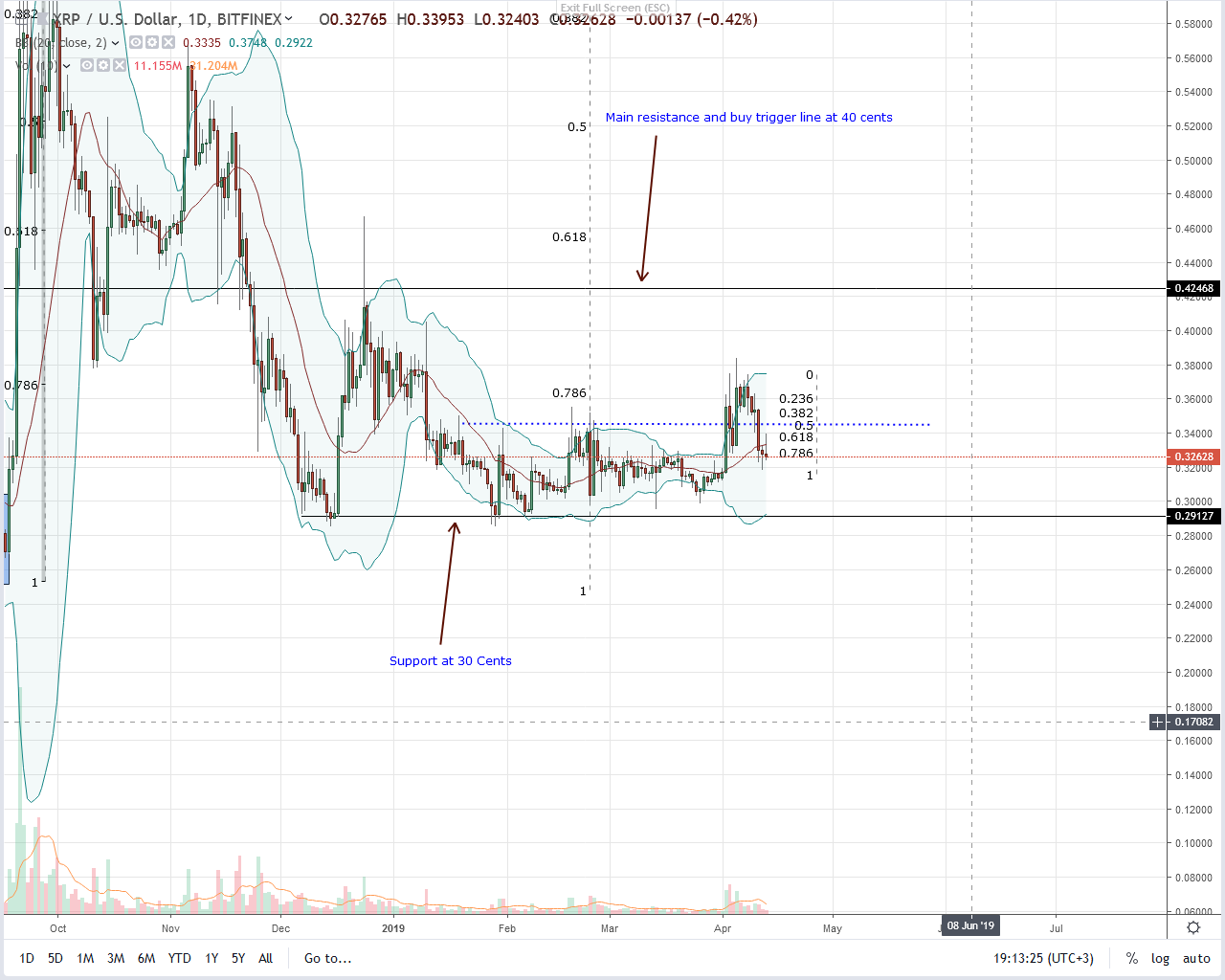 In an effort versus result point of view, sellers have the upper hand, if we break down price action from a top-down approach. However, in short to medium term—with analysis from the daily chart, buyers are leading.
Visibly, although sellers are pressing lower, they are yet to reverse gains of Apr-2. With the rejection of higher highs, Ripple (XRP) is back in consolidation. As a result of this arrangement, risk-off traders should exit their longs and wait for reversal above 34 cents or even 38 cents and 40 cents before concluding that bulls are back.
Most important is the resistance at 34 cents, our previous buy trigger line coinciding with the 61.8 percent Fibonacci retracement level of Dec 2018 high low. On the other hand, any drop below 30 cents invalidates our outlook paving the way for liquidators aiming at 15 cents or lower.
Technical Indicators
Apr-11 bar is our reference. It has volumes of 32 million which is lower than average–at 46 million. Because it is bearish closing below 34 cents, buyers would be back in contention if there is counter, high-volume and wide-ranging bull bar with volumes above averages of 39 million. If there is a confirming high-volume bear bar confirming Apr-11 draw down, odds are XRP may drop below 30 cents.
Chart courtesy of Trading View
---
Be sure not to miss any important news related to Cryptocurrencies! Follow our news feed in the way you prefer; through Twitter, Facebook, Telegram, RSS or email (scroll down to the bottom of this page to subscribe). Bitcoin never sleeps. Neither do we .
---
Disclaimer: This press release is for informational purposes only, the information does not constitute investment advice or an offer to invest. The opinions expressed in this article are those of the author and do not necessarily represent the views of CriptomonedaseICO , and should not be attributed to, CriptomonedaseICO .
---
This post is also available in:
Русский (Russian)