5 Bitcoin Easter Eggs that you need to know
Here are the big 5 Bitcoin Easter Eggs:
1. The hidden message (s) in the Genesis block
We start, how could it be otherwise, with the Bitcoin Genesis block. It must be known that Satoshi Nakamoto must have been a bank-critical contemporary. The Bitcoin inventor already expressed this attitude in the Genesis block of Bitcoin. If you ask one of the relevant block explorers after block 1, you will see a hidden message in addition to all the raw transaction data:
So far, so well known. However, it is only recently known that the same message appears twice in the data jumble.
Because if you convert the hexadecimal string into an alphanumeric, ie readable, string, the result is the same message, just backward:
sknab rof tuoliab dnoces fo knirb no rollecschnC 9002 / naJ / 30 semiT ehT
2. Marriage Proposals on the Blockchain
Granted, this is not an Easter Egg that everyone has something for. However, not only did Satoshi make use of the opportunity to write messages in the Blockchain for all eternity. For those who are really serious about the application, Blockchain offers ways and means of carving a declaration of love in stone. As Nic Carter tweets, there are at least eleven applications on the Bitcoin Blockchain:
There are at least six marriage proposals inscribed into the bitcoin blockchain – one in the coinbase data! The other 5 I could find are in op_return. pic.twitter.com/K5rEc88ARr

– nic carter (@nic__carter) April 30, 2018
At least six marriage proposals are registered in the Bitcoin Blockchain – one in the Coinbase">Coinbase database! The other 5 I could find are in op_return.
Anyone who is now trying to immortalize themselves on the Blockchain, may read here, how to do it.
3. Yellow vest hides 0.26 BTC in Parisian street art painting
At the yellow vests protests at the beginning of the year, many dissatisfied Frenchmen cavorted. What began with the displeasure of higher fuel taxes, soon unfolded its own dynamics. Thus, under the yellow vests soon also one or the other bank critical Bitcoiner mingled.
One of them was Pascal Boyart. The street art artist dedicated the Gilet Jaune to Eugène Delacroix La Liberté guidant le peuple this painting:
The artist then added 0.26 BTC to the work (at the time, that was equivalent to 1,000 euros); finished was the viral Bitcoin Easter Egg story.
Unfortunately, if you still want to search, we have to disappoint you. Because the treasure has already been lifted.
4. Blockstream satellite sends hints of $ 1 million treasure
Things are different with the next Easter Egg. Because here, adventurers can still get really rich.
Blockstream is one of the most exciting projects in an already exciting space with its satellites sending Bitcoin through space. Like user @notgrubles twittering and CriptomonedaseICO reported that familiar characters from Bitcoin Space were hiding one million dollars in BTC in a bitcoin address with an unknown private key.
Received a new message over @Blockstream Satellite. It appears to be a treasure hunt for $ 1,000,000 in #bitcoin, with included GPS coordinates for the first part of the hunt! ??️??️ https://t.co/M4mKMbQ8KU pic.twitter.com/HzkEJ8RFXc

– grubles (@notgrubles) April 15, 2019
The treasure that will belong to the most successful hunters and their clan is neither gold nor jewels nor the worthless papers that pass for money in this sad age; instead, it's Bitcoin, a digital treasure made up of deep mathematical truths, worth $ 1 million,
it says in the mysterious text message.
Via Shamir Splitting, the initiators then split the private key into 1,000 parts. If you want to raise a part of the treasure, you must find at least 400 of them – not an easy task.
5. Google Home Mr. Satoshi
Last but not least, an Easter egg made by Google. Who the Google Home Device after "Mr. Satoshi ", gets the following answer:
Google Home Mr Satoshi Easter Egg – Check Bitcoin Cryptcoin prices
bitcoin 1CLxbayiaJDg3mxeQuwtCnTJLG2aHgiLxZ Civic 0x5BE5407777aa5c6dB34fc665aD2eb6102cFA9771 DASH XxREaPh1WwMHTvs8p38EhEX6i8ZnxFLaN3 DECRED DsajvzCrybmEoEh4A8HUwJnJAfT4715e9YE DNT 0x5BE5407777aa5c6dB34fc665aD2eb6102cFA9771 EOS 0x5BE5407777aa5c6dB34fc665aD2eb6102cFA9771 ETH Classic 0xcd957f26B351545c0e56505cA6F545d9411ccA63 ETH 0x5BE5407777aa5c6dB34fc665aD2eb6102cFA9771 FUNFAIR 0x5BE5407777aa5c6dB34fc665aD2eb6102cFA9771 GNO 0x5BE5407777aa5c6dB34fc665aD2eb6102cFA9771 Golem 0x5BE5407777aa5c6dB34fc665aD2eb6102cFA9771 LITECOIN LSWKJ66ycaphUnDAev7Hxn9RFmssXGuy4F OMisego 0x5BE5407777aa5c6dB34fc665aD2eb6102cFA9771 Bitcoin Cash 1EQvrmRaEyZfQzSxUpQxs1VRsFVA655HWG Make sure you let me know you donated so I can shout you out in the next video! Thanks for your support guys! Follow me also on instagram at ig.com/cryptoinformer and fb.com/cryptoinformer"/>
Of course, the list presented here is not exhaustive. Bitcoin is a grassroots movement and therefore predestined to continue to provide pop culture Easter Eggs in the future. Happy Easter!
Are you a blockchain or crypto investor? The Digital Cryptocompass is the first digital currency stock market newsletter to provide you with monthly exclusive assessments and in-depth analysis of the current situation in the blockchain & crypto markets. Free test now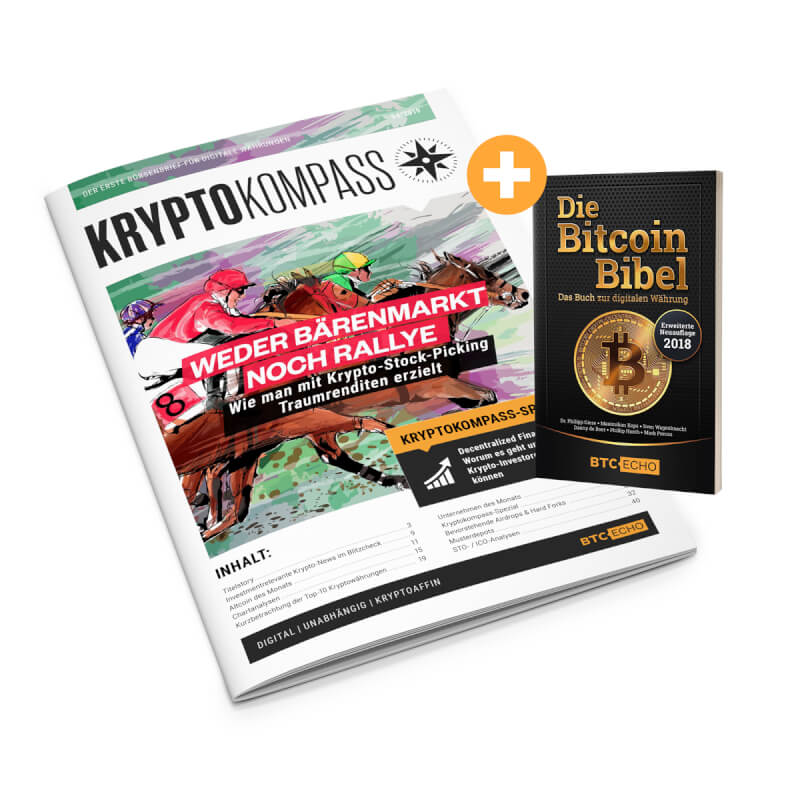 ---
Be sure not to miss any important news related to Cryptocurrencies! Follow our news feed in the way you prefer; through Twitter, Facebook, Telegram, RSS or email (scroll down to the bottom of this page to subscribe). Bitcoin never sleeps. Neither do we .
---
Disclaimer: This press release is for informational purposes only, the information does not constitute investment advice or an offer to invest. The opinions expressed in this article are those of the author and do not necessarily represent the views of CriptomonedaseICO , and should not be attributed to, CriptomonedaseICO .
---
¿Utilizas Telegram? Únete a la mejor comunidad de trading en Telegram para recibir Señales Exclusivas de Compra y Venta de criptomonedas, acceso a nuestros Cursos Gratuitos, debates y análisis de proyectos! // www.criptomonedaseico.com